This article was added to on November 15, 2010
My work in HDR is not theoretical but actual hands-on testing of the kinds of scenes we experience every day. I've tested hundreds of scenes from landscape to cityscape to architectural. I've shot HDR during all times of the day and analyzed many approaches to HDR and all the programs for HDR. I've bracketed narrow image sets (1/2EV), broad image sets (3EV), merged too many images and to few images. I've compared ISO 100 with ISO 800 and analyzed single image tone mapping with the HDR equivalent. I even developed a method for using flash with HDR, called Flash Merging. This article is just a small part of some of my studies. For more information on my HDR techniques read my book coming out in May 08 called, "Complete Guide to High Dynamic Range Digital Photography" by Lark Books.
THE WORKHORSE OF BRACKETING
The easiest way to jump into HDR Photography is begin by setting the camera up to shoot in AEB mode with either 3 images at 2EV spacing or 5 images at 1EV spacing. The type of camera you have will determine which image set you are able to shoot, but either set will capture about a 10EV dynamic range. It is very hard to see a difference between the 2EV and 1EV spacing so don't fight what you camera was built for. I refer to this bracketing sequence as the Workhorse Set because it is used for the majority of HDR photography and will capture the full dynamic range for most scenes.
WHY AEB? Auto Exposure Bracketing allows you to take all the images without touching the camera between exposures, provided the camera is on a tripod and a cable release is used. Handling the camera between exposures can increase the chance of mis-alignment resulting in an image that is not sharp or has ghosting. If you shoot HDR handheld image sets then AEB mode AND Continuous Shooting mode is a must. Trying to fumble with the dials between exposures doesn't work.
NOTE: Thoughout this tutorial it is assumed that the dynamic range of the digital sensor is 6EV for a single image. This estimate is arguably low but I'd rather border on the side of quality. Several tests are on the web that indicate the sensor is able to capture much more than 6EV but noise begins to diminish the quality.
Taking 3 images @ 2EV spacing will capture a 10EV dynamic range and can be done in AEB mode with the following cameras.
Canon (1D Mark II, III, 5D, 30D, Xti, XT, Power Shot G7, S3 IS, TX1)
Nikon D80, D70, D50
Pentax K10D, K100D, K110D
Fuji FinePix S3
Taking 5 images @ 1EV spacing will also capture a 10EV dynamic range and can be done in AEB mode with the following cameras.
Nikon D2X, D2Xs, D2H, D200
Fuji Fine Pix S5
There are several cameras on the market that won't allow a 2EV spacing in AEB mode so you will have to resort to manual bracketing.
Fuji S9000, S9500, S9600, S6000fd, 6500fd (3 images @ 1EV spacing)
Olympus E-1, E-330, E-500, E-410, E-510 (3 images @ 1EV spacing)
Sony A100H (3 images @ .7EV spacing)
Nikon D40 – No AEB Can you believe it!
Unfortunately, cameras that capture 3 images @ 2EV spacing are not able to dial in additional images while in AEB mode. 5 images @ 2EV spacing in AEB mode would be an ideal firmware update that hopefully all camera mfg's will recognize. Until then, you will need to switch to Manual mode and just dial in a new setting after each exposure or use the second option and shoot TWO AEB sets combined with exposure compensation. In manual mode, be sure to become familiar with the number of dial clicks per stop because the tick marks in the LCD won't show 4 stops.
TWO AEB sets are fairly simple, your camera has a feature called Exposure Compensation that you can dial in before the AEB set is shot. First dial exposure compensation to –2EV, shoot 3 images @ 2EV spacing then dial exposure to +2 and complete the second AEB set of 3 images at 2EV spacing. When you are done, the set will include two 0EV images so one can be deleted, thus the final image set consists of 5 images @ 2EV spacing.
5 images @ 2EV spacing is from two image sets shown in yellow and green. The total capture is 14EV.
For capturing greater dynamic range with the high-end Nikons and Fuji S5 simply use AEB and dial in 7 or 9 images at 1EV spacing. The example below shows 7 images @ 1EV spacing for a total capture of 12EV.

SCENE CONTRAST
Scene contrast is the most important factor when deciding the number of images and bracket amount that you should use.
If you prefer single image tone mapping rather than taking an HDR image set, that's fine, ghosting and alignment is no longer an issue, but understand it only works to a point. Eventually the contrast will become great enough that noise will dominate the shadows and the highlights will be blown. In addition, an important realization is that even 3 images @ 2EV spacing starts to fail when the contrast gets high enough. You may need to shoot 5 images @ 2EV spacing or more, to adequately capture the full dynamic range of the scene.
DIRECTION OF LIGHT
If you are starting out in HDR photography, use the direction of sunlight to help you identify scene contrast. In the field, I used a Sekonic spot meter to determine EV range and I began to categorize scenes with similar dynamic ranges. These categories are based on the direction of light relative to the camera and the presence of small regions of brightness or darkness in the scene. These categories allow me to determine in the field what kind of dynamic range I'm trying to capture and how much bracketing I need to do.
Category 1 – FRONT LIT, OVERCAST, DAWN or DUSK
Front-lit scene – the sun is behind you and the composed scene is fully lit with little to no shadows.
Overcast light – cloud cover is significant and shadows are faint and non-existent.
Dawn and Dusk – for a period before sunrise or after sunset. Scenes that do not include the rising or setting sun are bathed in diffused light.
BRACKETING: Single image or the Workhorse image set
Category 2 – SIDE LIT, TOP LIT
Side-lit or top-lit scenes – sunny day with the light approaching from the right, left or above. Shadows are common.
BRACKETING: The Workhorse image set
Category 3 – BACK LIT, NIGHT SCENES, INTERIORS
Back-lit scenes during sunrise and sunset – this scene occurs when you point your camera toward the sun and objects are in the foreground. Shadows can be pronounced and light very bright.
Night scenes with streetlights
Interior with window(s) to outside
BRACKETING: 5 images @ 2EV spacing, 7/9 images @ 1EV spacing
The chart below shows the change in dynamic range from 3 – 15EV. It also shows the typical images that fall in each range and the technique you can use to capture an image in the range. The dashed lines in the two techniques indicate that capture is possible but not always successful.

SMALL REGIONS OF DARKNESS – CAVE EFFECT
In addition to the direction of light, it is also important to recognize that small regions of darkness can cause any scene in any category to have much higher dynamic range. If you want to capture details inside those small regions then you will need to bracket for a greater dynamic range even if the scene is in category 1. I say "small" regions as it relates to the % of the scene in the viewfinder, not the absolute size of the region.
Visualize a hillside with a cave in the face. The deeper the cave, the darker it becomes and the greater the dynamic range between the sunny hillside and the dark cave. I call this the cave effect and it plays a significant role in the dynamic range of the scene.
Learn to identify the cave effect in your composed scene. It is all around us in varying amounts. It could be a fruit stand, I-beams under a bridge, breeze-way where people walk, a garage, under a car, a dense region of trees, even books in a book case.
In this image, it's very overcast and the light is diffused, the snow causes even more dispersion of the light and it's clearly a category 1 scene. Normally I would take 5 images @ 1EV spacing but notice in the distance there is a tractor in the garage. I recognized the cave effect and knew that if I wanted details of the tractor a single image or even 5 images @ 1EV spacing would not work. In this scene I took 7 images at 1EV spacing and captured details of the tractor.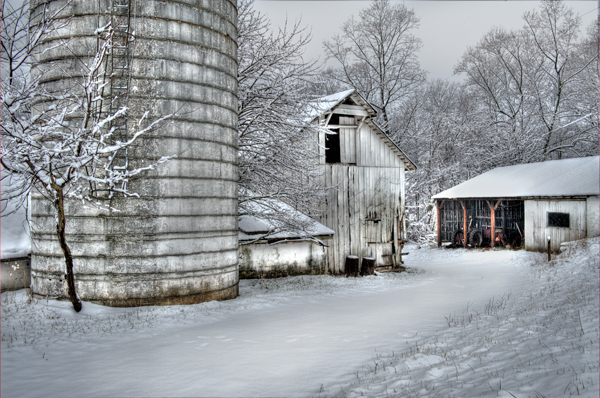 BLOOMING – Regions of darkness are susceptible to blooming when longer shutter speeds are needed for proper exposure. Pixels surrounding the dark area become so saturated they begin to spill photons into the dark area. The result is a hazy look to the dark area that can appear in the final HDR image. As an example, in this image, if I had tried to expose for the opening in the top of the barn (near center) blooming would have made it impossible to see the details inside the barn.
SMALL REGIONS OF BRIGHTNESS
Put a 100watt light bulb in a 10' x 10' empty room and the dynamic range is 12EV. The source of light is bright and it drops off very quickly to the corners of the room. Similar to the light bulb in the room, night scenes with artificial light can create very high dynamic ranges. Remember artificial light drops off quickly and if another light is not nearby to "fill-in" then the dynamic range increases. When the situation arises plan on adding additional exposures. I usually shoot 7 images @ 1EV spacing.
Night photography – Streetlights are small regions of extreme brightness and if the scene has dark shadows then you can expect a high contrast scene. This HDR image of Boston is from 7 images @ 1EV spacing.

Interior architecture – When the scene includes a window with an outdoor view the dynamic range can easily exceed 10EV. This HDR image is from 7 images @ 1EV spacing plus an additional image at -4EV to capture highlights. This example has lots of windows, when the window is small the contrast will be even greater.

Sunrise or sunset photography that includes the sun can be very high contrast. The foreground is back lit and dark shadows are often the case. This HDR image was taken in Acadia National Park, Maine and is from 7 images @ 1EV spacing (left).
As a side note, here is a comparison between HDR and the use of Graduated Neutral Density Filters. The left image is HDR the right image was taken with Graduated Neutral Density filters. I stacked a 2 Hard and a 3 soft and shot a single image. Notice that it doesn't match the HDR image in detail enhancements and the reflection across the water is pretty blown out. Also, the flare, which has been an issue with me for years, appears across the distant rocks.


This is a case of extreme dynamic range and shows the amazing ability of HDR photography. It's so dark I can't see my feet and the light is so bright at the opening I can't recognize any detail near the tunnel opening. It was similar to being in a dark room with someone shining a flashlight in my eyes. It consists of 7 images @ 2EV spacing and captures a range from -6EV to +6EV. The HDR image is noise-free and it captures the highlights in the sky and the detail of the bricks in the sidewall of the tunnel. Had a train come during the shoot, my plan was to run to the little fake door on the left and wait it out, good thing it didn't.

What happens if I don't capture enough dynamic range? Capturing the full dynamic range is important especially when you put in lots of effort to get to the scene. It's easier to capture more images than you need than to go back and reshoot, besides you can look at the histograms and delete the unneeded images later.
This is 3 images @ 2EV spacing and it doesn't capture the full dynamic range and the result is noise in the dark areas, lack of detail, and blown highlights. Kinda sounds like a single image shot, doesn't it.

NOISE and HDR
Oh, those damn randomly-spaced, brightly-colored pixels, they are as bad as ants.
The single most important way to avoid noise in HDR is capture the full dynamic range.

If noise is a primary concern of yours then a smaller EV spacing is better. The many tests I've done show that 1EV spacing is better than 2EV when noise is an issue however, it doesn't mean you have to shoot all image sets at 1EV. Just be aware of the technique and apply it when noise is possible, ie. dimly lit, long shutter speeds, high contrast.

It's fine to use noise reduction software before merging to HDR but if you've captured the full dynamic range it's not necessary.

I prefer to shoot RAW image sets but on many occasions I shoot RAW +JPEG and compare the two HDR images. Once processed in HDR, it is very hard to impossible to notice a lower quality in the JPEG.

The software used to merge-to-HDR can make a difference in noise control. NOISE WILL ALWAYS BE IN THE BRACKETED IMAGES, there is no way to avoid it in the underexposed images. It's up to the merge-to-HDR algorithm to avoid inclusion of the noise. The best software for noise control is Photomatix, FDRTools and EasyHDR. Other merging software such as Artizen, Photoshop CS2/3, don't do as well. If you decide to give FDRTools a go, you'll find that it is exceptional in noise control.

Regardless of the software it all goes back to the first point, you have to give it good data. Let's take a look at the darkest region in your image set, like the top right corner of the tunnel shot. The algorithm looks at each pixel in the stack and all of them are black but hey it comes across some blue and red ones in the underexposed image and decides these are good to bring along in the final image. But if you give it data that have values above 0 in the overexposed images it will choose that over the noise. The only way you can do that is take a more overexposed image.
ADDITIONAL CONSIDERATIONS ABOUT CONTRAST
Reflective surfaces have to be treated as a light source. A reflection of the sun or other light sources will dramatically increase the contrast. Small reflections can be ignored but large reflections need to be considered.

A dimly lit scene is not necessarily high contrast particularly if source lights are not included in the composition.

A brightly lit scene can be low contrast. A picture of the clouds, although very bright, is low contrast as long as the sun is not included.

Don't try to expose for the sun's disc. Allowing the sun and a region around the sun to be blown is acceptable in photography.
SINGLE IMAGE TONE MAPPING VS. HDR
Scenes that fall into category 1 have a dynamic range that can often be captured in a single image. As a simple example; if I photograph a flat gray card, there is no shadow or highlight detail missed by the single exposure and an HDR image is not the best technique. Now put some bends and folds in the gray card and allow the source light to approach at a low angle. The dynamic range increases and eventually a single image fails to capture enough dynamic range and HDR techniques are preferred.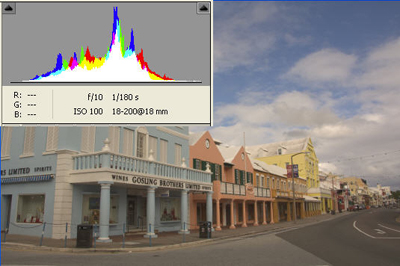 Above is the single image RAW file. The scene is front lit and overcast. Shadows are not pronounced in the area under the canopy but there is a slight cave effect. Notice the histogram shows that clipping has not occurred, thus single image tone mapping could be the best alternative. However, realize the tails of the histogram can have less than optimum data, noise or color shifts can be present.
Below is the single image tone mapped in Photomatix with default settings and below that is the HDR image created from 5 images @ 1EV setting. Don't be concerned with the different color saturation or slightly different levels of contrast. These are easily adjusted in post processing.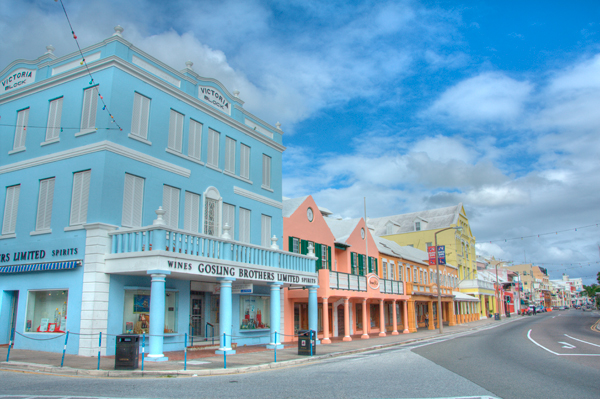 Single RAW Image Tone Mapped (0EV)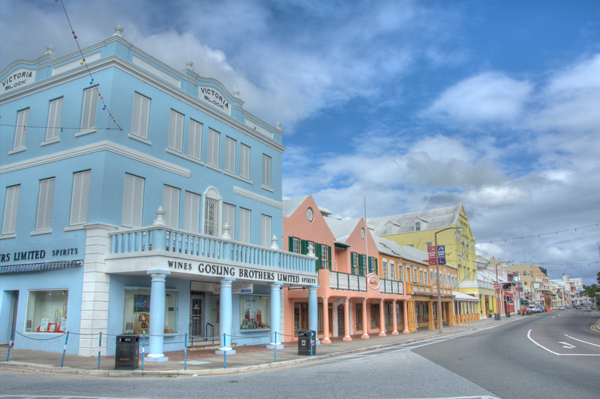 HDR image from 5 images at 1EV spacing
The 100% crop below shows the single image (left) and HDR image (right). They are difficult to distinguish because the cropped area is front lit and there is no cave effect.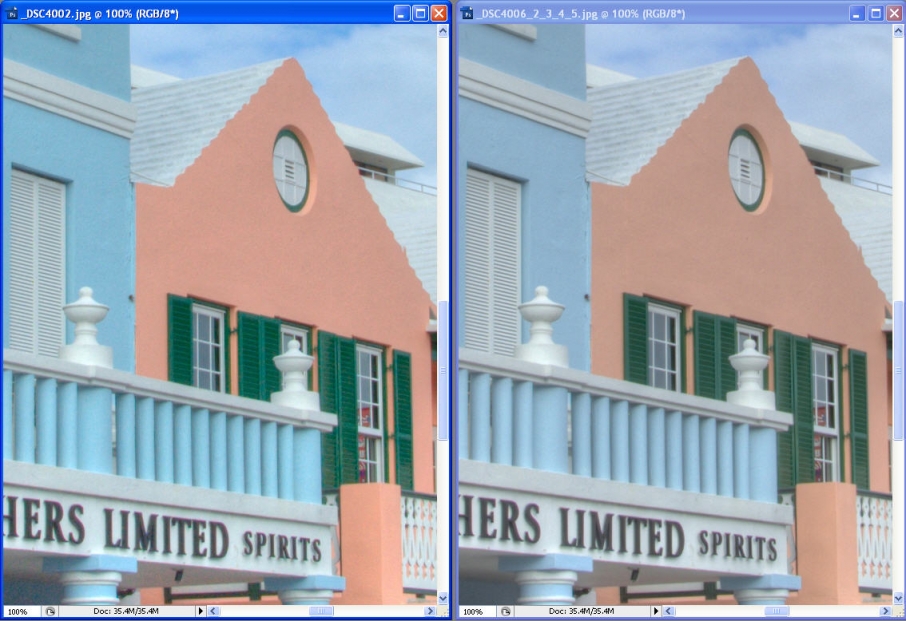 Now let's look at a different crop, an area where the cave effect comes into play. It's clear that the HDR (right) shows less noise than the single image (left) in the shadows under the canopy. So now it's up to you, do you prefer a single image with slightly more noise, that is free of ghost or alignment issues or the HDR image which is nearly noise free. The call is subject and for this example I prefer the single image because the noise it carries is not significant and the HDR shows some ghosting in the distant part of the street.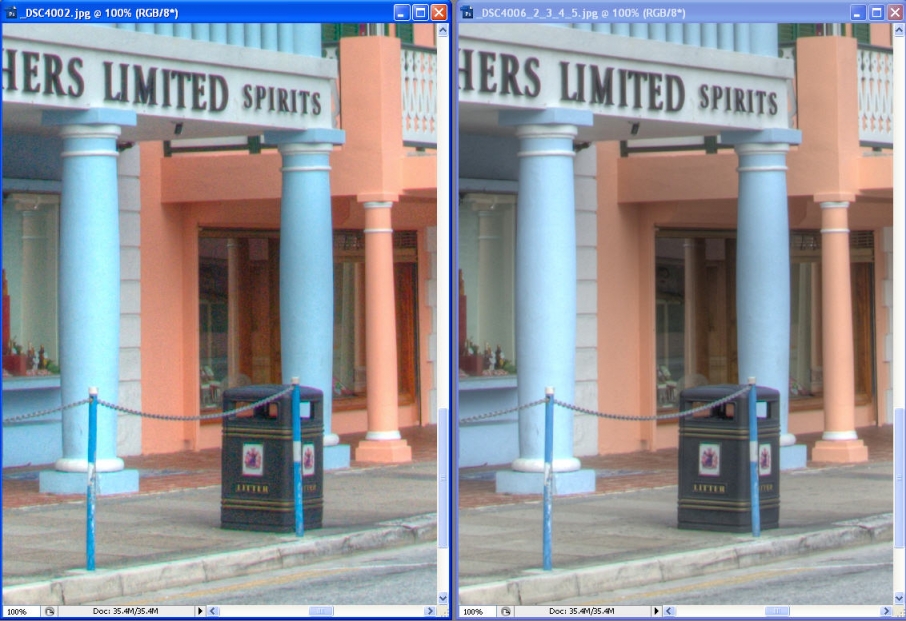 Single image tone mapping can produce high quality images; analyzing the scene and even composing the scene for it's single image potential is a good approach to better photography. It may require moving a distance to your right or left but getting the scene to be front-lit for example, can make all the difference.
ADDITIONAL CONSIDERATIONS ABOUT BRACKETING
Don't bracket less than 1EV. Here is .7EV bracketing and it's pretty clear that image overlap is excessive and it takes more images to capture the full DR. It's a fallacy to shoot a large image set, say 12 images at 1/2EV, and conclude that all image sets should be this size because you got good results. The reality is that equal or better results can be obtained with fewer images at a greater EV spacing if the dynamic range is covered in both cases.

Consider two images +2EV and –2EV. I call this the Bi-Polar image set. Overlap is sufficient, range is ample and it's the preferred method when being chased by a bad guy. One nice benefit is that fewer images need to be processed, archived and tracked for the rest of your life.
How far can you push this? I've found that merging +3EV and -3EV causes some blending artifacts so I avoid going that far.

Consider shooting the Workhorse Set plus one image
Shooting 3 images @ 2EV spacing is sufficient for most scenes but in certain situations a fourth image is needed. Let's take a scene with the horizon line in the upper third of the frame like the Grand Canyon shot below. In matrix or zone metering, the camera is going to expose for the dark shadows of the canyon, as they comprise the majority of the scene. The camera will bracket based on the shadow area and place less emphasis on the narrow bright area occupying the edge of the frame. Thus, the underexposed image (-2EV) may not be sufficiently under exposed for the bright sky. The best method is to add one image at –3EV or –4EV to give a margin of safety for capturing the full sky color.
The opposite also applies. If an important area of the scene is dark and you want detail that is noise free, then certainly take additional overexposed images.
This is the edge of the south rim of the Grand Canyon at sunrise taken with a 10.5mm fish eye lens. From the bottom of my feet to the river below it's 1 mile down. The sun is rising on the right and you can even see where it's lighting the top cliff on the left. By the way, there is no pic as awesome as standing before the canyon. Put it on your list of places to visit.

I hope you enjoyed the tutorial.
The images in this tutorial were made with Photomatix and FDRTools. FDRTools is the tunnel shot and the Grand Canyon above. Both are really excellent HDR programs. If you are interested in Photomatix you can get a discount by typing in "beforethecoffee" in the coupon box at the purchase page for Photomatix.
Happy shooting!