You can download a free trial version of Photomatix from www.hdrsoft.com
Get 15% off the Photomatix program (reg. $99) just by entering "beforethecoffee" in the coupon code box of the Photomatix purchase page.

This tutorial is for version 4.0, please check for more recent versions. As of 10/14/2020 version 6.2 is available.
Getting Started With Photomatix Version 4.0

It's not unusual for a company to come out of the blocks in a full sprint and leave the competition in the dust. Look at Google, Ebay and the iPhone; they lead the industry in their categories and everyone else plays catch-up, When it comes to HDR software it's Photomatix created by HDRsoft. Each new version of Photomatix incorporates new tools giving us more control over the final image and Version 4.0 is no disappointment.
This Photomatix tutorial covers Version 4.0 and will take you through it's most popular tone mapping tool, Details Enhancer. So let's get started.
In Bermuda I used a Nikon D2x with a fish eye lens and a tripod to capture the source image set of 5 images, each a different exposure: 0EV, -2EV, -1EV, +1EV and +2EV. These beach huts are made of canvas and when you sleep at night you can hear the waves crash under your bed. Pretty cool place!

Let's jump ahead and see the final HDR image. If you take a moment and think about sunlit scenes you realize pixels in the shadow areas come from the overexposed images and pixels from the bright areas, like the sky, come from the underexposed images.  These images are the building blocks of the final 32-bit HDR file.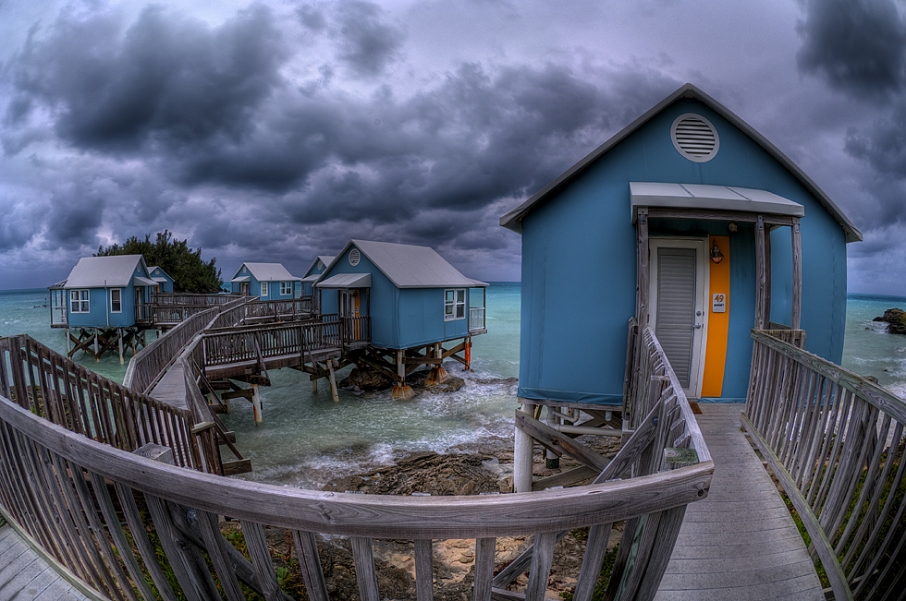 Once you install Photomatix, double click on the icon and a window opens with 3 choices.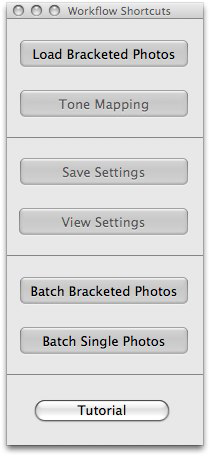 1. Load Bracketed Photos – This is the place to BEGIN, it will require an image set which may be 3 or 5 images.
2. Batch Bracketed Photos – Batch processing is used when you shoot HDR image sets all day long and have about 50 images and you'd prefer to go get a bowl of ice cream while the processing is done. The advanced feature now allows different size image sets in the same folder, 3 or 5 for example.
3. Batch Single Photos – This will allow you to do single image tone mapping on a folder of selected images. If you prefer to tone map one image file go to File>Open.
Tip: Batch processing is best when used to create 32-bit HDR files only. I avoid Batch processing that includes Tone mapping. Tone mapping adjustments are image specific so I prefer to apply adjustments to one image at a time.

Notice here I clicked Load Bracketed Photos then Browse then selected 5 tif files then clicked Select. This image set consists of 5 images taken at 1EV spacing.
RAW to Tif conversion? Notice that the images I'm about to load are TIF, however the camera was setup to record RAW files, should I convert my RAW files to TIF first?  YES, the present thinking is to convert your RAW files to 16-bit TIF for better results. However, if I have lots of different compositions of the scene, I typically process and tonemap the RAW files, then I decide which composition is best, then I go back and convert the image sets to TIF.
Save 32-bit HDR file? There is a check box that allows me to view and save the 32-bit HDR image. Why would I want to save the 32-bit HDR image? The 32-bit HDR file is an intermediary file, you don't look at it or print it. Having this file on hand saves you a little time if you decide to tone map the image again with different settings. I normally don't save this file.
HDR formats? If I decide to save the 32-bit HDR file, what about the various formats?
The default format is .HDR, the two others are .EXR and TIF (floating point tif) they come in handy for research and testing. I always accept the default .HDR and move on.
Once you select your image set you are presented with this box. I recommend checking the "Align source images" as a routine setting. Keep the next 3 boxes unchecked for now, create a "Dry Run" tone mapped image, save it and inspect it for ghosting, noise and chromatic aberrations. If the problems are beyond what you want to repair in post processing then re-run the image set with the needed boxes checked and save it. This will allow you to compare the "corrected" image with the original.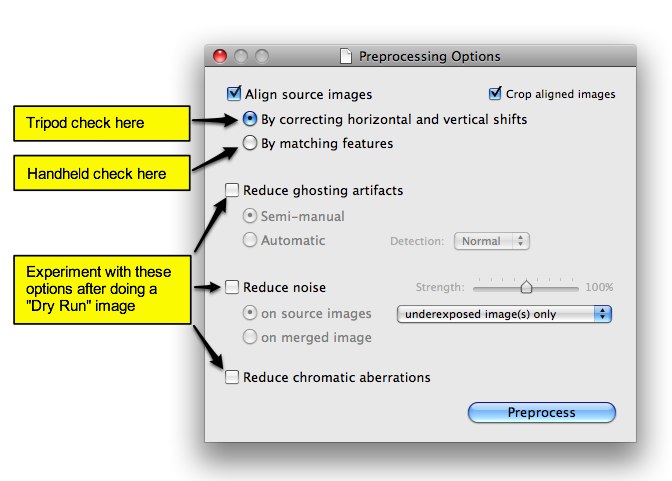 Reduce ghosting artifacts – most of my ghosting corrections take place manually during post-processing so I rarely check this box. In Photoshop, I create layers and blend one of the single exposures into the tone mapped image. Typically, I FIRST tone map the single image before I blend it into the tone mapped image for a similar look.
Ghosting in your image? Who ya gonna call? The new ghost buster tool in v4.0 is much more sophisticated than previous releases so I recommend giving it a try. First chose the "Semi-manual" option. Then draw a selection around the ghosted area using the lasso tool, right click to select it, then right click again to set the photo you want as the source image, e.g. -2, -1, 0, +1, +2.
Tip: Ghosting is the result of a moving object. When I use a single image to blend into the tone mapped image I like to use the -1 or -2EV exposure. Why? Because the shutter speed is faster thus the moving subject is sharper, but watch for noise.
Reduce noise – v4.0 has high quality noise reduction with a new algorithm applied on the source images. Remember noise is part of your image at the time of capture as opposed to grain which is caused by excessive compression of the pixels, i.e. overly high strength settings.
Reduce chromatic aberrations – results can vary when this box is checked. I like to have the the "Dry Run" image for comparison.
If the 32-bit image appears just click Tone Mapping / Fusion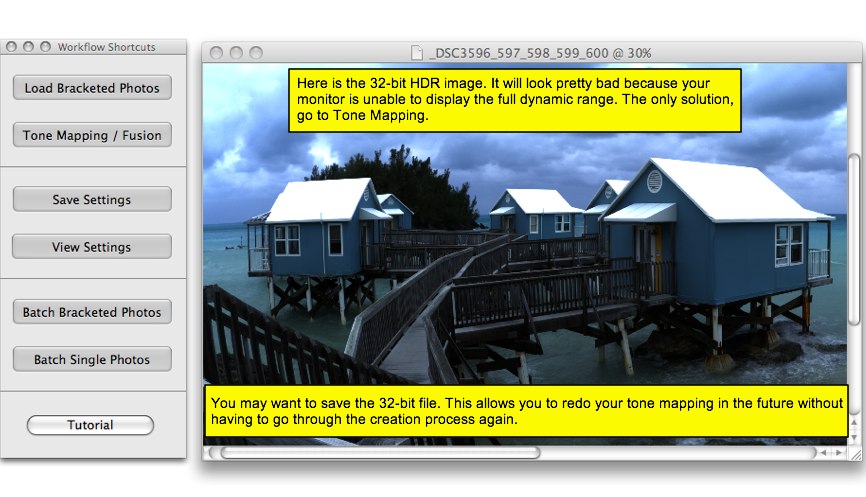 A new window will open and now the fun begins…..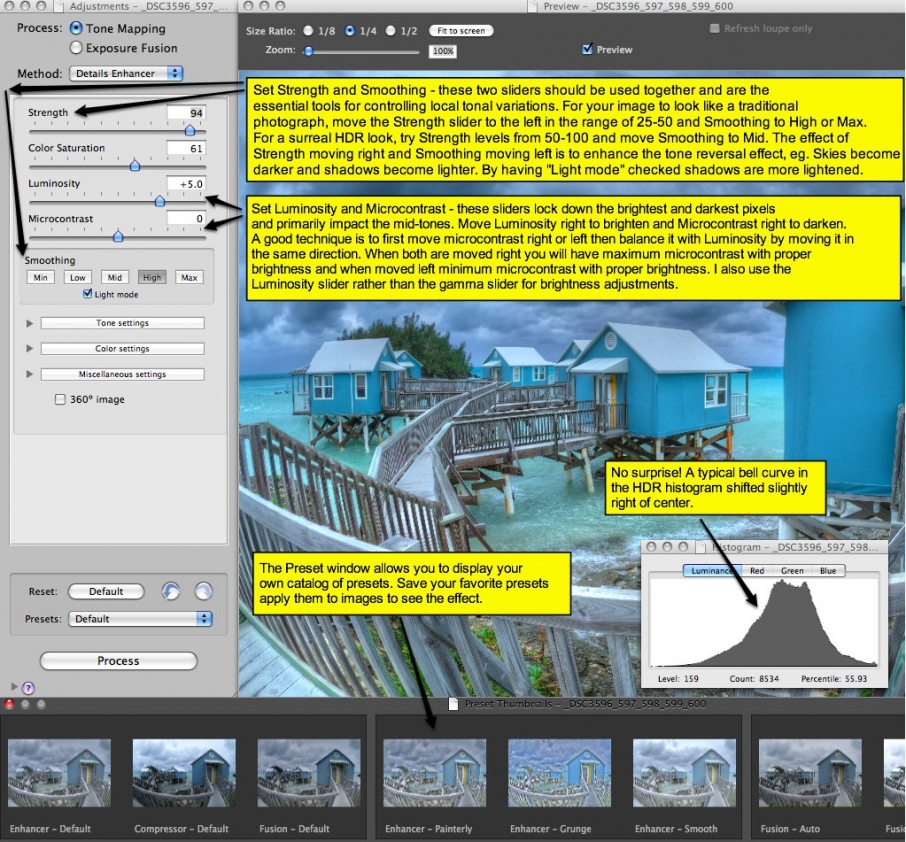 The tone mapping portion of Photomatix can be considered the goose that laid the golden egg. The program has three tone mapping operators, Details Enhancer, Tone Compressor. and Exposure Fusion. Each is accessed as a drop down in the top left portion of the window.
Images tone mapped using Details Enhancer (above) can be very surreal. Details Enhancer is by far the most popular tone mapping tool. However, if Details Enhancer is too much for your taste, then Tone Compressor is an excellent choice for maintaining a natural look. If shadows are your preference, Tone Compressor can generate dark foreboding shadows with subtle noise free details. Version 4 has improved rendering of Tone Compressor and also added range of the sliders.
Exposure Fusion is another operator but doesn't work with the 32-bit file. It blends the exposures and outputs an image with a very natural look. I sometimes refer to the "single-shot look" of Exposure Fusion to see how extreme my tone mapped image looks.
One of the obviously new features of v4.0 is the Preset Thumbnails Panel. It can be placed on the bottom or the right side of the tone mapping window. It not only allows you to click on a variety of built-in presets it also has a toggle to show all your saved presets. The built-in presets give you a nice flavor of what can be done to the original image. Your personal presets can have many variations, for example you might want to save presets for different lighting conditions. A night scene may benefit from desaturated shadows and a scene with a bright blue sky may benefit from greater highlight saturation.
Tip: A good way to reveal your sensor dust is to click on the Grunge thumbnail.
Version 4.0 also embeds the tone mapping settings in the processed image. Now you don't have to worry about finding the settings file that belongs to the image, just click on "View Settings" from the main window and they appear.
While you are tone mapping you'll notice 3 tabs that expand for more adjustments. These adjustments can drive you bonkers so begin with the default setting. Experiment and play with them, try small and big changes but always watch how it effects all parts of your image. Keep in mind, a particular setting may work for one image and not at all for another. The yellow boxes below give you the nitty-gritty on each adjuster.
Tip: When making slider adjustments keep an eye on the histogram window. You'll notice which sliders add contrast, i.e. pixels spread left and right, which sliders move all pixels and which sliders lock down pixels while moving others.
Here are the 3 tabs expanded for more adjustments.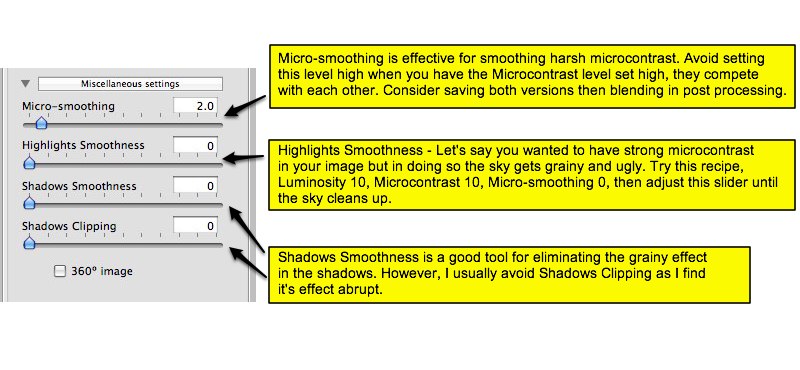 Just like most things in life the best way to become proficient at tone mapping is to practice, practice, practice. It helps to photograph a variety of scenes even at different times of day to learn the pitfalls of HDR tone mapping. Before you know it you'll be viewing images that you're proud of. Here's a few of mine that I enjoyed creating.
It only takes a small commitment of time each day to become proficient at HDR tone mapping. As you explore the possibilities, your unique style will begin to emerge that portrays your vision. I know when you analyze your surroundings, use your camera to express, find your vision you will capture the full range life has to offer.
Happy Shooting!
TIPS and TRICKS
HALOS – A halo is a fringe of brightness around an object that extends into a region of uniform tonality. Halos make you look like a rookie tone mapper and you don't want that. You have two choices for controlling halos. First, control them while tone mapping or second, fix them in post processing.
A building that extends into a blue sky is a good example where halos often develop. Lowering Strength is usually sufficient for controlling halos. However, the Highlights Smoothness slider in the Miscellaneous window  is very useful for controlling halos in the bright regions of the image. If the bright region has halos eg. blue sky, then raising Highlights Smoothness will control them and even allow you to push the Strength slider to higher values.
Here is a shot of the Lincoln Memorial with a blue sky. You can see the effects of Strength (S) and Smoothing (LS) in action and how blue skies are problematic. Watch how the halo around the tree increases when Strength is increased (right) and notice how Smoothing opens the shadows where the leaves are (down). Generally, Strength creates halos (right) and Light Smoothing create tone reversals (down). The image that is closest to a conventional single shot is top left. The most extreme is bottom right.

If you do end up with a halo consider blending the tone mapped image with a single source image using layer/masks in Photoshop. Here is an image that has the blue sky from -2EV image blended with the tone mapped image. To review HDR post processing you can click the link under tutorials called Post-processing.

Tone Reversals
Give an image an unnatural appearance by creating strong tone reversals and halos and most people will say, "Wow!" for the first 10 images. After 20 images they'll say "not so sure" and by 25 they'll say "it's way overdone."
Tone Reversals – Tone reversal are the result of taking regions of an image that we would normally perceive as darker than other areas and making them brighter. We all have visual perception that the sky is the brightest part and under the trees is darker. Notice the effect of tone reversals in the Lincoln Memorial (above) as you move through the thumbnails to the bottom right. The answer to correct tone reversals is raise the Smoothing followed by lowering the Strength.
Noise
Noise is that set of brightly-colored randomly-spaced pixels in your image that is saved when you take the image. It's a by-product of the camera electronics and it destroys details that cannot be recovered. Noise is mostly in the shadow area and it's important to know tone mapping can enhance it.
How to lessen noise in the image:
Lower the Luminosity slider – Be careful raising this slider above default, it's cool because it raises shadow detail and add compression but it enhances noise if it's there.
Lower Strength to render the shadow are darker – remember increasing Strength moves the image toward tone reversals ie. brighter shadows.
Raise black point to render the noise-full area darker or black
Under Color settings – Lower Saturation Shadows for color noise
Under the Miscellaneous settings – Raise Shadows Smoothness and Shadows Clipping (sparingly)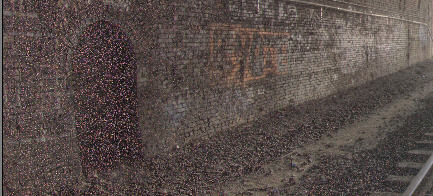 Default values with added Luminosity (+3) Noise is enhanced. Why the noise anyway??? Well I merged images that didn't capture the full dynamic range, tisk tisk.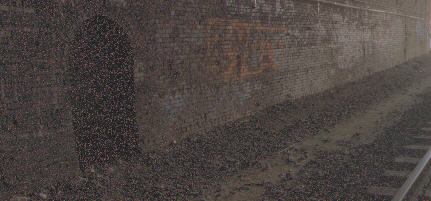 Making the slider adjustments shown above I've suppressed the noise at the expense of local contrast. Notice how the smoothing functions lower the brick details but make the noise less obvious. Now there's a good reason to capture the full dynamic range.
Grain
Grain is caused by excessive local compression in the tone mapping process. It can obliterate details, just like noise, but details are recoverable by making the key adjustments that lower compression. Grain is most common in the dark portions of cloudy skies. Click on the area for a look at the 100% preview after each adjustment. Don't adjust while in 100% preview.
Grain – Try these controls and notice that they all effect compression.
Lower the Strength – effects compression
Lower the Luminostiy – effects compression (can counter darker tone with Gamma adjustment)
In the Miscellaneous window raise Micro-smoothing, Highlights Smoothness, Shadows Smoothness
Lower microcontrast – effects compression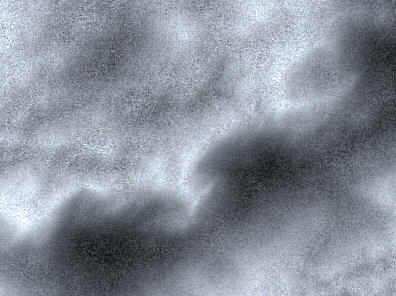 Grain high. Note – this is not noise.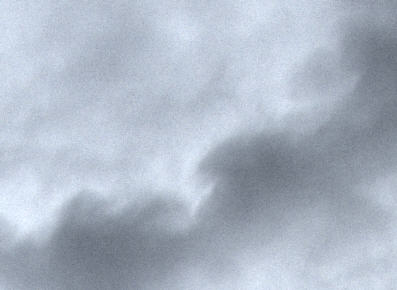 Grain Low
So now we have Tommy Toner who has great intentions but doesn't quite have the tone mapping touch. He gets some of the image looking real nice but that sky is full of grain. Most would say he increased the strength to much, others might say he didn't take enough images.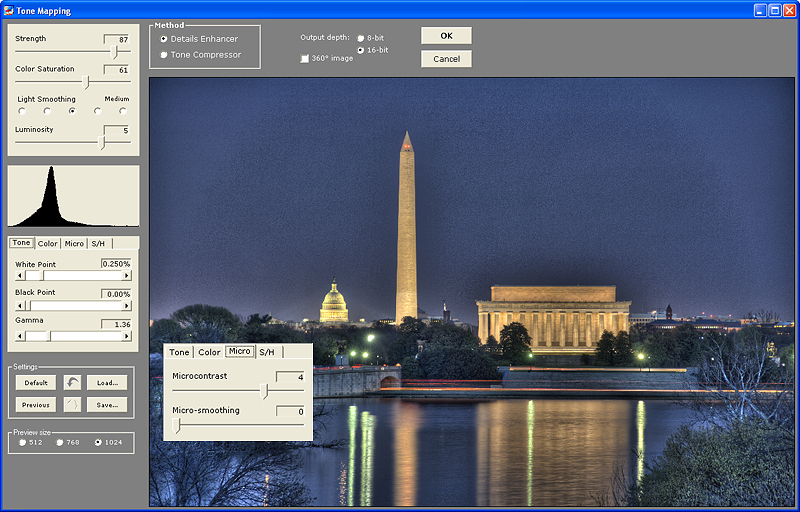 Lower Luminosity and counter by raising Gamma (Tommy has them backwards).
Lower Microcontrast and raise Micro-smoothing.
Raise Light Smoothing (not essential but changed)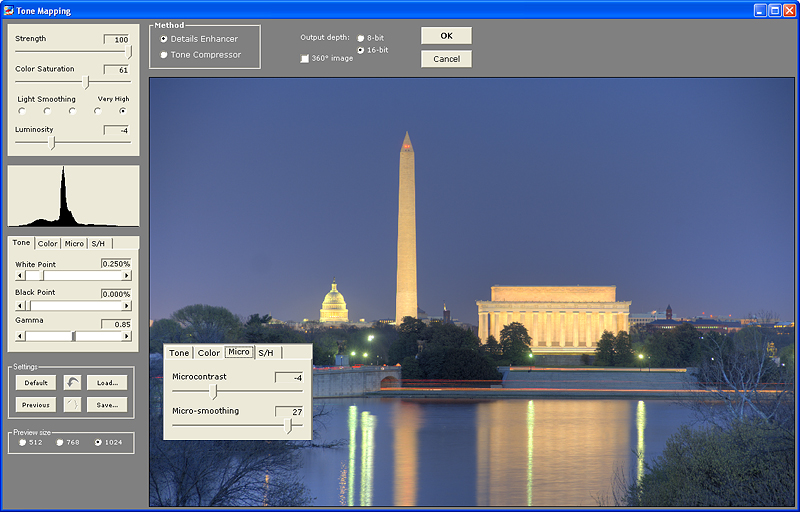 Here is Tommy's much improved image with the changes made. Wow, notice the noise is gone and the halos are barely visible but Tommy has given up some local contrast in the Memorial's.
What can be done about the loss of local contrast? Can I have my cake and eat it too: local contrast with little grain in the sky or clouds? Yes you can if you use post processing. Tommy cleverly saves both images, opens them in Photoshop and blends the grain-free sky with the image with nice local-contrast and posts it to Flickr and everyone makes it their favorite and sends him lots of awards and he's famous.
You can also download a free trial version of Photomatix from www.hdrsoft.com
Get 15% off the Photomatix program (reg. $99) just by entering "beforethecoffee" in the coupon code box of the Photomatix purchase page.