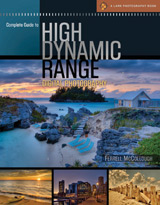 A special thanks to all the readers of my book, you made me number 1. May you capture the full range life has to offer!
I knew that photographers would begin to see HDR as a tool that offers a wide range of looks. Many of us, including me, labeled HDR as too surreal and felt it would be a fad. Well now, photographers are learning that HDR can offer a more conventional look; HDR images can look like a single shot AND offer lower noise in the shadows with captured highlights.
Here is an email I received last week from the publisher of my book:
Ferrell,
Just thought you might like to know that your book is #1 on BookScan, which is the data base that keeps track of all books sold in the US. Your book is outselling every other photography book in the country right now!!!
WooHoo!
Haley Pritchard
Photography Books, Editor
Lark Books
If you are interested in a personalized autographed copy of my book drop us a note or call:
sales@fmphotography.us
301-497-9099