No Use Crying Over Spilled Milk but you do have to make that call home….
Uh honey, ya know how I drive that truck for a job? Well I won't be doing that anymore.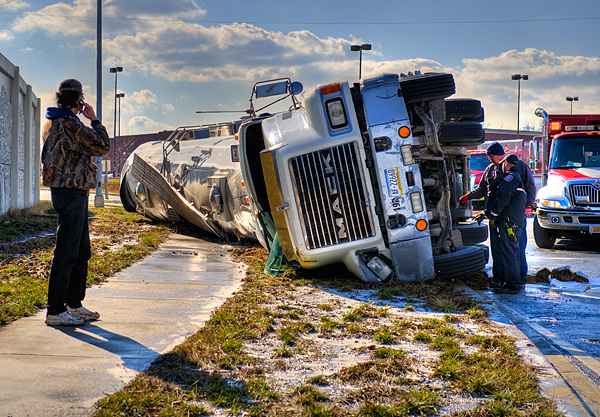 Isn't it annoying when you go around a turn to fast and your milk truck flips over. Not only do you spill thousands of gallons of milk but you piss off hundreds of drivers, cause the cows to have to work overtime, and have to stand around for hours while they figure how to upright your truck.
This happened in one of those traffic circles just outside the neighborhood where we live. To see my other pics click on the small thumbs on the right, it takes you to my flickr page. Also, my email is ferrellmc [at] comcast.net
Think about how much you would charge to upright this truck, then triple it. What's the number? 4 guys, 2 trucks, 1 hour = $9000.00.  I know what you're thinking……..we're both in the wrong business.